CANDIES 100 g (DISPLAY BOX OF 10 BAGS)
18,20€
Display box with 10 bags of 100 g candies of concentrated sugarcane juice traditionally known as "Andalusian sugar cane molasses" from Frigiliana.
It is a natural sweetener with fewer calories and more nutrients than sugar and brown sugar.
INGREDIENTES: sugar, glucose, concentrated sugarcane juice and acidulant (citric acid).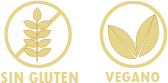 Descripción
We have been cutting sugar cane for over 300 years, extracting its juice and cooking it using our traditional ancestral recipe to create concentrated sugarcane juice (Andalusian sugarcane molasses). Rich in vitamins and minerals, its ideal with fried aubergines, dairy products, meats and as a natural sweetener to create sauces. 
Additional Information
Valoraciones (0)